Moon Picture / Hacks Book
I took some photos of the moon tonight: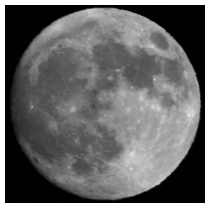 I had help with the exposure settings from
Hack #96: Shoot The Moon
in
Digital Photography Hacks
. I know I'm biased because I put together a book in the Hacks series, but I really found this book entertaining and useful (read most of it tonight). Unlike most Hacks books it has full color, glossy pages and is filled with illustrations. I don't know if it's because I'm used to the Hacks format—or because I'm the target market—but I feel like I got more practical advice from this photography book than any other I own. I wish there would have been more web/photography stuff (
EXIF
parsing, programatic resizing, etc.) but I realize this is a book for photographers, not coders.
I'm not happy with this level of detail in the photo, and I'd like to get an adapter so I can hook my camera to my telescope. I want to see craters in my moon photos. (Here's a
picture of the moon
I took in 2002 by holding my camera up to the telescope eyepiece. The adapter should work better.)