SXSWi 2010
After a six year break from the
SXSW Interactive
conference, I wondered if nerd summer camp would be the same. First, go read
Matt's summary of SXSWi
and the comments. I was hanging around with him the whole time, and he already posted the highlights. The summary: it was very different but still inspiring.
I second renting a house for South by Southwest. It's always good for me to get away from the fray at night. I did that for several years by staying at the awesome
San Jose
on Congress, but being in a quiet residential neighborhood was even better. And since team MeFi is distributed, it was nice to have some non-work time to hang out in a
relaxing place
.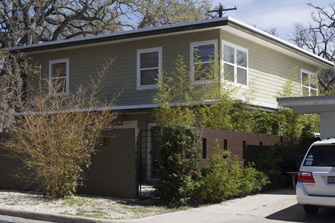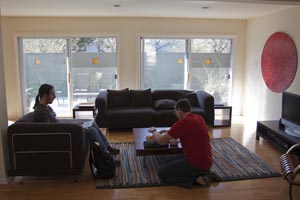 This trip started with a MetaFilter Meetup and it was great to meet some Austinites and hear their take on the massive nerd invasion happening in their town. I wish every trip to a city could begin with an orientation by a group of folks from that town over fried food and beers.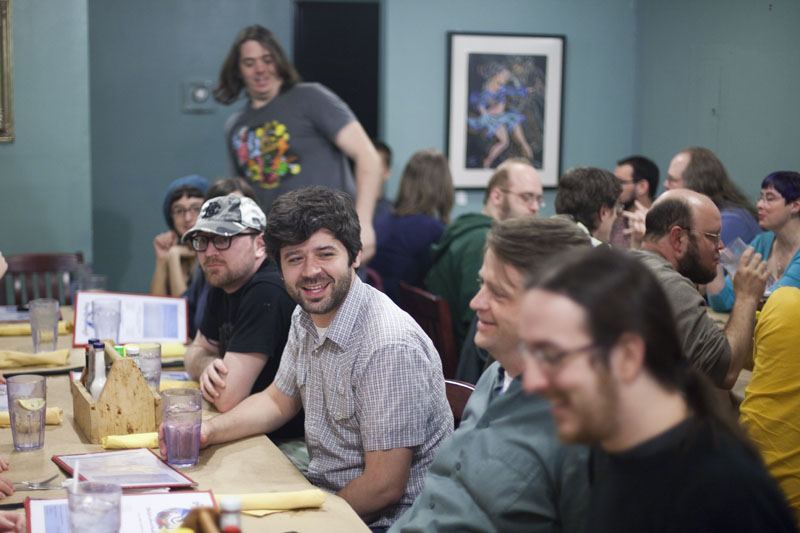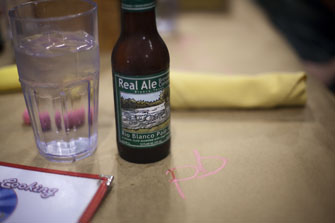 The theme I pulled out of the conference was
feedback
. Not PA feedback (though there was plenty of that), but I came away with new ideas about how we use feedback in web applications. The biggest eye-opener was
Andy Baio
's panel on using gameplay mechanics in non-game contexts. I think web app developers have spent the last several years focused on building the social side of their applications including figuring out ways to integrate with Facebook. But Andy's talk made me realize I should start following the lead of game designers more closely. Games have found a way to get people immediately into a
flow
state by giving constant feedback, and web apps could do the same. Team MeFi spent the week playing
Foursquare
by checking in at places across Austin, and unlocking a badge was a fun event that reinforced using the system. I think we have always used game mechanics intuitively, but explicitly learning and using the lessons from game design is something I'd like to focus on. Achievement Unlocked: Awareness of Game Mechanics (+10).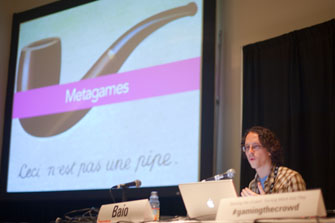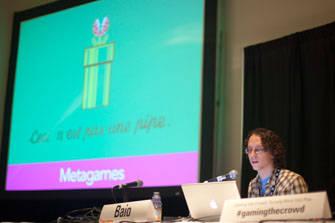 A related talk was
Designing the First Fifteen Minutes
by
Rob Goodlatte
from Facebook and
Daniel Burka
from
Tiny Speck
. They talked about ways to get new users engaged with an application, and they encouraged using a more aggressive feedback system. Progress indicators, setting goals, and teaching by doing all borrow from game mechanics. And that makes sense because Burka moved from Digg to helping build the game
Glitch
. Giving users a sense of ownership
before
asking them to register is also something I'm going to try to incorporate into applications I build from now on.
It was inspiring to hear
Ze Frank
talk about making emotional connections online. One example he gave was assembling his crowdsourced chorus to his song
anxiety
. (Sadly, no longer online.) In addition to leaving inspired to do great things online, I took away the idea that people need to hear they're on the right track more often than they do. Which leads to the message I took away from
Gary Vaynerchuck
's inspiring talk: sometimes you just have to grind away even if you're not getting the feedback you need. Like Matt, I wasn't a big Gary V fan before the talk, his marketing-presence sort of put me off. But in person I had to admire his command of the stage. And though his style is motivational-speaker abrasive at times, I can't fault his message: there is no magic bullet—success requires hard work. (Also interesting that he started a sentence with, "If you're going to
play
Twitter..." Maybe he misspoke but I like the idea of viewing Twitter as a game.)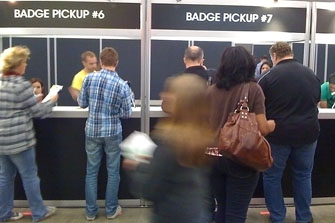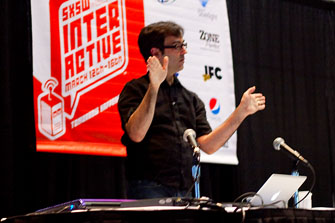 On the nerdier (in a good way!) end of the spectrum, I found
Aaron Hursman
's Dashboard Design talk had me thinking about how to get better feedback from the applications I help manage. He had dozens of examples of using sparklines and small graphs to show an overview of a system. Eventually I stopped taking notes and started making sketches of things I want to build. I think that's the sign of an inspiring talk.
While not directly related to my own personal conference theme, it was great to hear Jessamyn talk about the
Digital Divide
. I work in a pure web environment, but for many organizations the Web is just one piece of the whole picture. It's important, but hard for me to remember that not everyone is connected to the web via a screaming fiber connection; many people are simply not online. I learned more about how the non-digital live and of all the talks I mentioned you should
listen to this one
first. I work with Jessamyn at MetaFilter and I don't normally get to see her wear her
librarian
hat. It was great to hear her talk about something she obviously cares deeply about.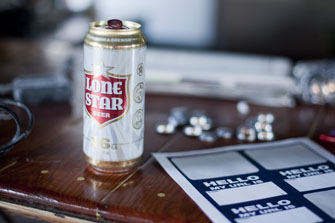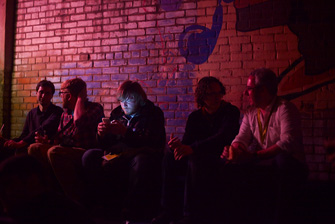 To sum up, hooray Austin! I got to catch up with fun web people I'm lucky to know from SXSWs past and had some fantastic tex-mex and barbecue (which are nonexistent here in Oregon). Even though SXSWi has quadrupled in size since I last went in 2004 I'm very happy I went. I have about a dozen new books to read, ideas I'd like to study and incorporate into my work, and a general "get out and create" mandate. So yes, nerd summer camp lives!