Spotify, Wrapped
I would like to announce that I have ended my business relationship with Spotify. That means I'm no longer paying Spotify $15/month for a family account. With Neil Young off the platform, they're literally removing the music I listen to most. Here's my 2021 Spotify Wrapped top artists list. (And keep the judgy looks to a minimum—we all got through 2021 our own way.)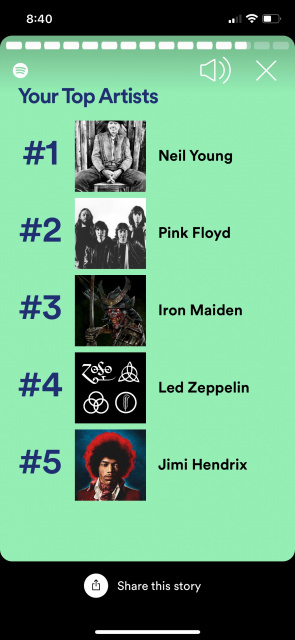 I agree with
Neil Young
(and
Joni Mitchell
and
Nils Lofgren
and
Brené Brown
) that it's not good to support a company that refuses to remove public health disinformation.
Not everyone in my family plays their carefully curated Neil Young playlist 24/7 so they weren't as eager to jump ship. We all agreed that moving to a new service was good, but we couldn't agree which service to move to. We rarely sit down and put together our technical requirements for a digital service as a family. So we assembed our RFP and we're waiting on the contracts from Procurement.
In the end we found a music service from a company with no problematic stances:
Amazon Music
. I'm kidding, of course. Chances are very good that I'm going to want to leave this service in the near future and maybe that will be the environment we're in until there's real competition. Neil Young recommends Amazon and he has a deal that will
give new users four months free
.
The biggest barrier to moving services was moving our playlists. I found an app for that that works well:
Free Your Music
. It costs $15, but I look at that like a moving services tax. Hopefully that's a one-time fee. I had 30+ playlists to move over and I've only found a few mismatches here and there that were easy to fix.
If anyone else is a hardcore Neil Young fan it's worth checking out his
Neil Young Archives
website. (Thanks for the gift subscription, Dad!) The central music services are kind of like fancy spreadsheets to me. They make navigating songs easy but treat all artists the same. Looking through the Neil Young Archives is more like rifling through a dusty trunk where there's all kinds of bizarre things to find. It looks like this: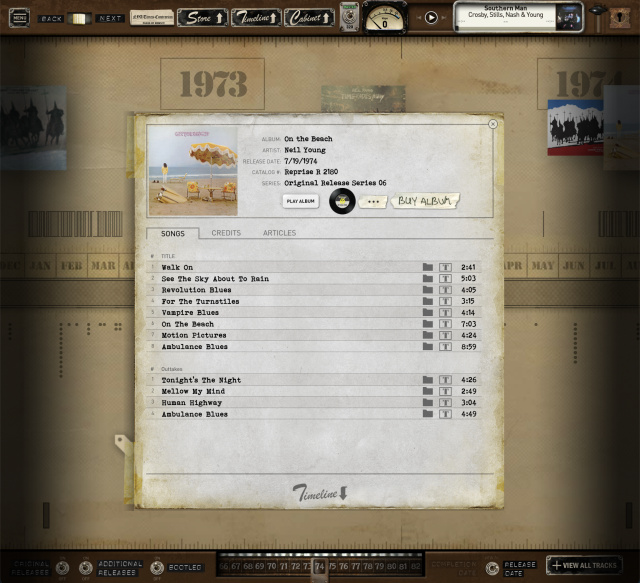 Truly awful if you're trying to get something done efficiently. Awesome if you want to have a feeling of discovery. We have a lot of "efficient" experiences online and I think we could use more planned weirdness.
Anyway, Spotify is a good, efficient music service. They must view podcasts as the future of their business if they're willing to both be bad citizens and degrade their music offering to keep those listeners.