Hawaii Pictures
Aloha! sk and I just got back from our Christmas in Hawaii. We went to Honolulu and stayed in one of the many, many hotels in Waikiki. (Our room had an amazing view of the beach.) It's the closest I've ever been to the equator, and as you might expect the weather was warm and humid. (Not
quite
as warm and humid as Nebraska in late August, but close.) The city seemed like it was inhabited only by tourists, and it was rare to see a Hawaiian going about their daily routine that didn't involve tourism. (Especially in Waikiki.)
Of course news of the tsunamis cast a shadow on our trip. The ocean is ever-present in Hawaii, and it's hard to imagine something so beautiful causing incomprehensible destruction. The local news assured everyone that a tsunami wouldn't be as destructive in Hawaii. I feel strange posting tropical vacation photos in light of the worst natural disaster of our lifetime. Even though the pictures and videos we're all seeing of waves, palm trees, and the ocean are devastating—there is a peaceful side.
Now my feet are back in their sock-prisons, I'm re-learning what day of the week it is, and I'm getting used to seeing the outside world through windows. Here are some photos from the past few days.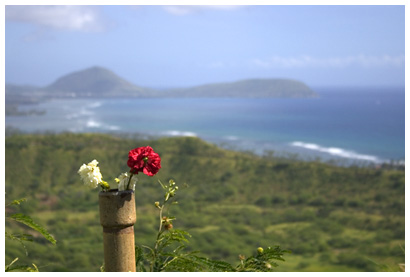 flowers on Diamond Head (click for more)
I had a great time in Hawaii—hopefully I'll get to visit again sometime. Happy New Year!